Articles
Redevelopment of Nueva Ecija University of Science and Technology (NEUST) University Museum: An Educational Tourism Destination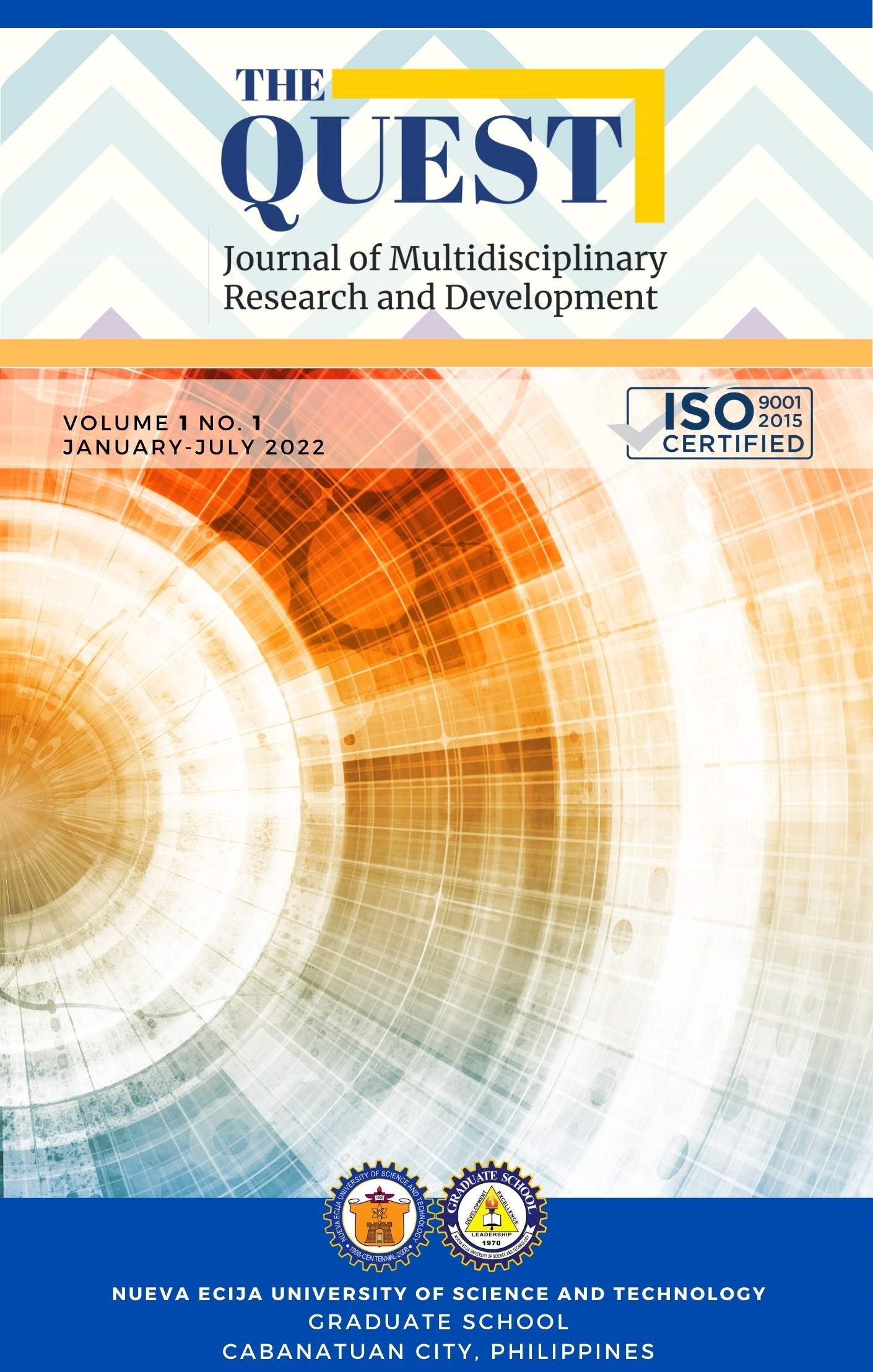 Published 04/10/2022
Keywords
Educational Tourism

,

SWOT Analysis

,

Development of Museum
How to Cite
Bawan, O. (2022). Redevelopment of Nueva Ecija University of Science and Technology (NEUST) University Museum: An Educational Tourism Destination. The QUEST: Journal of Multidisciplinary Research and Development, 1(1). Retrieved from https://neust.journalintellect.com/quest/article/view/10
Abstract
Philippines is endowed with rich heritage in the past where present and future generations need to be informed and educated. Museum, as center for education and tourism destination, plays a significant role in safekeeping, preserving and displaying the country's historical treasures so that Filipino children and youth may have the glimpse of the past and have tangible experiences about them at the present.
Museums for anthropological, ethnographic, archaeological, historical, visual arts collections and others are situated in the different parts of the country.
According to Reyes, (2020), through using a museum to cultivate and promote respect, interest, and proper recognition in minority cultures and people who played a significant role to a nation, we are working to prevent cultural and historical losses. Museums in modern museology undertake their activities by taking the different segments of society into consideration. These activities are permanent exhibitions, temporary exhibitions, guided tours, dia-film demonstrations, discussions, seminars and atelier trainings (Kelej; 2000: http: //sosyalbilimler.atauni.edu.tr).
University museums have become models for some public historical museums of formerly colonized countries. The distinction, nonetheless, lies in the museum's purpose: public historical museums are basically devoted to characterize philosophical structures of countries and patriotism, while the emphasis of university museums is scholarship and the academic institution's notion of education. Because of the changing social function of museums in the Philippines, university museums slowly declined in essentialness when historical museums turned out to be important for nation-building developments. (Mateo, 2020).
In relevance to the study, Nueva Ecija University of Science and Technology is a state university founded in 1908, otherwise known as Wright Institute in San Isidro, Nueva Ecija. From trade school to the present status of being a university, it became a notable education institution which provides knowledge, skills and training to the students and gives cultural and historical accounts in Nueva Ecija. It established the university museum in 2006 at the Sumacab Campus, Cabanatuan City. The museum provides a facility that will serve as a home for antique collections, tools, and other material accomplishments as evidence of cultural evolution and advancement among Novo Ecijanos in the hope that will inspire the present generation to become imaginative and creative as well.
This study tackles about the redevelopment of NEUST University Museum to be an education tourism destination where it serves as a venue that meet the past to its present regarding the historical and cultural heritage of Nueva Ecija, and its role as academic institution for the benefit of students and local community as well as the entire Novo Ecijanos.
The study will consist of three levels: redevelopment stage, infrastructure and collection management stage and program/activities planning stage.
Full Paper