Articles
Production of Vermicast Using Various Organic Waste Materials by African Night Crawler (Eudrilus eugeniae) Cultured on Portable Bin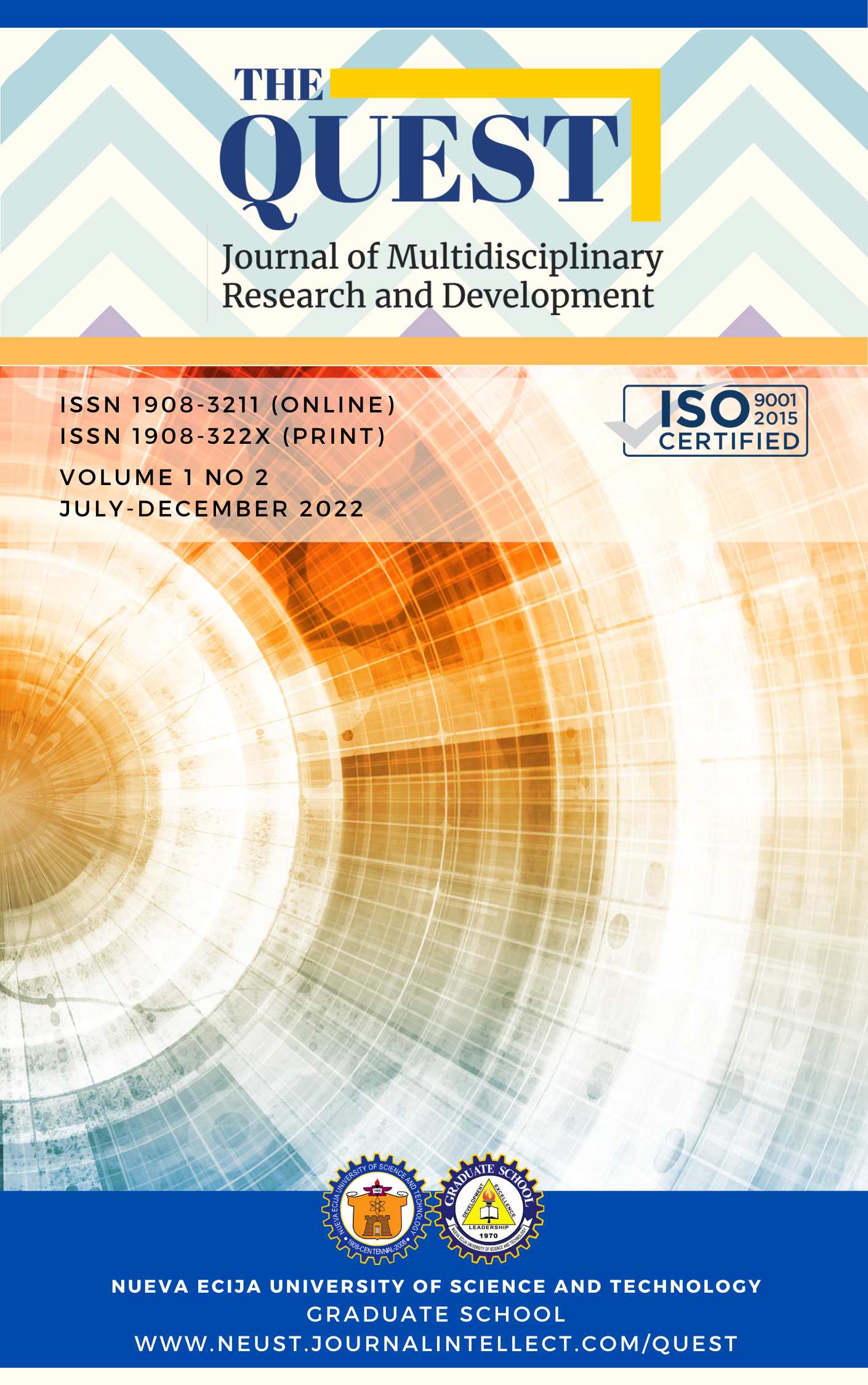 Published 12/30/2022
Keywords
African nightcrawler

,

Eudrilus euneniae

,

Organic waste

,

Portable bin

,

Vermicast production
How to Cite
Nhorlyn Rose, E., Pasion, B. J., Camille, E., Lourdes, E., & Marites, C. (2022). Production of Vermicast Using Various Organic Waste Materials by African Night Crawler (Eudrilus eugeniae) Cultured on Portable Bin. The QUEST: Journal of Multidisciplinary Research and Development, 1(2). https://doi.org/10.60008/thequest.v1i2.17
Copyright (c) 2023 The QUEST: Journal of Multidisciplinary Research and Development
This work is licensed under a Creative Commons Attribution-NonCommercial 4.0 International License.
Abstract
Vermicomposting in portable bins is usually adopted nowadays after the public understanding of vermicompost process increased and its deployment to convert organic waste into vermicompost has been increasingly expanded. Using worms, the vermicomposting technique turns food scraps, manure, and other biodegradable waste into "vermicast," which is an excellent fertilizer. Ease of the vermicompost process and ability of its application in various scales made the vermicomposting a popular issue almost everywhere. The experimental descriptive research method was used in this study specifically the true experimental research design that relied on statistical analysis to approve or disprove a hypothesis. The researcher conducted a 15-day experiment to observe and collect data and the process were divided into two stages: development and assessment. A total of 12 portable bins were put up in the experimental study and used them in developing and accessing which organic substrates are highly efficient in producing vermicast. Four sets with triplicate (T) bins containing worms and soil for control, and for the experimental agricultural wastes for T1, food wastes for T2 and office waste for T3. These bins were observed for 15 days and from the data collected, researcher found out that in experimental bins, the replicates with agricultural wastes produced the highest amount of organic fertilizer or the vermicast, followed by the food waste (fruit peelings and vegetable scraps) and the least from office wastes (shredded paper). The findings in this study led to the statement that portable bins made from utility boxes can develop and produce organic fertilizer from Vermicomposting, using agricultural waste materials preferably.
Full Paper
References
Blakemore, R. J. (2015). Eco-taxonomic profile of an iconic vermicomposter-the'African Nightcrawler'earthworm, Eudrilus eugeniae (Kinberg, 1867). African Invertebrates, 56(3), 527-548.
Dawes, M. (2010). True experimental design. In N. J. Salkind (Ed.), Encyclopedia of research design (pp. 1544-1546). SAGE Publications, Inc., https://dx.doi.org/10.4135/9781412961288.n472
Guerrero RD, (2010) Vermicompost production and its use for crop production in the Philippines; Int J Environ Eng (Special Issue on 'Vermiculture technology'); (Eds.) Rajiv K. Sinha et al
Jara-Samaniego J, Pe´rez-Murcia MD, Bustamante MA, Paredes C, Pe´rez-Espinosa A, Gavilanes-Tera´n I, et al. (2017) Development of organic fertilizers from food market waste and urban gardening by composting in Ecuador.PLoS ONE 12(7): e0181621. https://doi.org/10.1371/ journal.pone.018162
Kaur, Tamanreet. (2020). Vermicomposting: An Effective Option for Recycling Organic Wastes. 10.5772/intechopen.91892.
Pirsaheb, M., Khosravi, T. & Sharafi, K. Domestic scale vermicomposting for solid waste management. Int J Recycl Org Waste Agricult 2, 4 (2013). https://doi.org/10.1186/2251-7715-2-4
Satchell, J. (2012). Earthworm ecology: From Darwin to vermiculture. Springer Science & Business Media.